A video shot whilst on the "Pompey Remembers" Tour organised by Alan Laishley and Baxters Battlefield Tours - June 2017.
The film shows some of the memorials and cemeteries where the Pompey Pals who didn't return to Portsmouth, are commemorated in perpetuity.  The commemoration service held at The Menin Gate in Ypres every day at 8pm since the end of the Great War, is also included in the video.
Courtesy of Millstream Productions, we now have our first submissions on the Pompey Pals Project YouTube channel.
Having been created and produced by the students at Havant College, these films are exactly the kind of research and storytelling that the Pompey Pals Project aims to promote and encourage.  The first film covers the story of the Battle of Jutland and the effect of the huge losses on the local community in the Portsmouth  area and the other, Havant's Heroes, researches names from the Havant War Memorial to find out who they were and what they were like.
Macular Society - Havant Support Group
United Reformed Church, Havant
Wednesday 23 March 2017
Today's presentation was slightly different to the usual with Mike Hill telling the story of the Pompey Pals to people whose eyesight is impaired.  The audience was thoroughly engrossed by Mike's storytelling and was very keen to handle the weapons and artefacts associated with the Pals.
Much fun was had trying to guess the function of the Fencing Musket and then the surprising discovery of the weight of the Short Magazine Lee Enfield rifle issued to all soldiers in WW1.
Examples of trench art were amongst the artefacts chosen for the presentation. The detailed workmanship of these items enabled those with impaired vision to explore them through touch and really get a sense of the craftsmanship achieved in the trenches with such limited tools available to the soldiers.
It was a very successful presentation with an attentive and receptive audience who were engrossed and fascinated by the story of our very own local heroes.
A number of talks have been booked in for this year. We have recently completed a talk at the Women's Institute and have talks booked in at various Libraries and other organisations across the area over the coming weeks and months. (See our
Events Calendar
for details).
Photo (Right): Table of merchandise and memorabilia at "Pompey's Hidden History" event at Fort Widley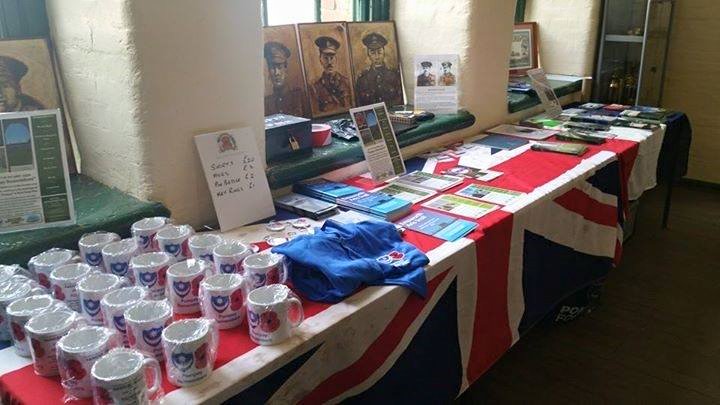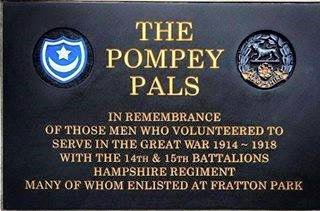 The talks cover the background of the Pompey Pals Project, the history of the Pompey Pals battalions, the actions they were involved in and the stories of the local men and women who were involved. We also examine the effects The Great War had on the local area.
Photo (Left): The Pompey Pals memorial unveiled at Fratton Park in 2014