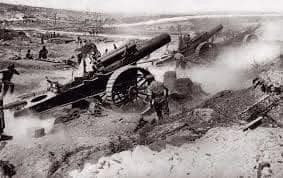 JUNE 24TH 1916:
The Anglo-French Artillery Bombardment on the Somme Front commenced. The aim was to destroy the German Defences.
It is estimated that approximately 1,700,000 shells were fired on German lines by 1,600 pieces of Anglo-French artillery during the eight day preliminary bombardment.
Shrapnel was fired to cut the wire, High Explosives fired to destroy the German Trenches and Strong Points.
It is estimated that nearly 30% of all the shells failed to explode, hence the Iron Harvest!